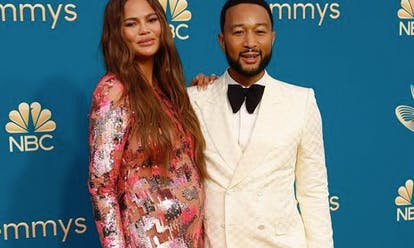 This Thursday, September 15, during the summit "A Day of Unreasonable Conversation", the model Chrissy Teigen came back to the loss of her baby two years earlier. "Two years ago, when I was pregnant with Jack, my third child, I had to make many difficult and heartbreaking decisions. It became very clear midway through the pregnancy that he would not survive, and neither would I survive without medical intervention.", she confided. At the time, the wife of John Legend was documenting what she called a miscarriage which occurred at 4 months of pregnancy. On Instagram, she shared very intimate photos on which she appeared in crying, on her hospital bed; especially with her stillborn baby in her arms.
A belated realization
But two years later, she realizes that the terms used were not the right ones. "Let's call it what it is: it was an abortionclarified Chrissy Teigen. A life-saving abortion, with a baby that had absolutely no chance. And to be honest, I never, ever made the connection until, in fact, a few months ago." A realization that took place after the Supreme Court of the United States announced that the States are now free to define the policy relating to abortion, and therefore to prohibit it if they wish.
"I told the world it was a miscarriage"
In front of her television, she assures her husband that she feels compassion for women who have abortions, and it is then that he makes her understand that she herself is one of them. "I fell silent, feeling weird that I didn't understand that wayshared Chrissy Teigen. I told the world we had a miscarriage, the world agreed we had a miscarriage, all the headlines said it was a miscarriage. And I got really frustrated that I didn't say what it was in the first place. I felt silly that it took me over a year to actually realize that I had had an abortion." An abortion certainly, not really chosen, but an abortion all the same, which is now called into question in more states of the country. In France, this is called medical termination of pregnancy, or ImG.
Two years after this terrible ordeal, Chrissy Teigen et John Legend again await a happy event.